Civil-Military Relations in Pakistan
Two renowned theorists of Civil-Military Relations, Professor Samuel P. Huntington and Morris Janowitz, agree that the world of military officials and that of civilians are far different from each other. They both have a firm belief that there is a huge difference in values and attitudes between them. The military represents conservative ideas, the civilian population is liberal.
"MILITARY JUSTICE IS TO JUSTICE AS MILITARY MUSIC IS TO MUSIC"
Civil-Military Relations in Pakistan – Colonial Legacy
Civil-Military Relations in Pakistan have grown under a political culture. So, it continues the colonial legacy of government structures and traditions. The British colonial government was based on a revenue-exploiting structure that relied heavily on state coercion at the same time.
Dependence on the military, bureaucracy and feudal landlords was at the heart of colonial rule. This was also replicated in the government structure of the new Pakistani state. As initial invaders had built garrison towns in Sub-Continent, the British had also created a much similar governance structure. Commander-in-Chief (C-in-C) of the Sub-Continent enjoyed the second rank preceded by Viceroy.
Civil-Military Relations in Act 1935 and after 1947
In fact, according to the Act of India 1935, he was so powerful that he announced participation in WWII without any intervention of government. After independence in 1947, India changed its C-in-C position to 25th but unfortunately, Pakistan couldn't do it.
Causes of Military Intervention in Pakistan
As per the 1973 constitution, which is valid to date with some amendments, Pakistan is a parliamentary democracy. In the early years of the 1940s and 1950s, the 1948 war on Kashmir settlement fears were mounting everywhere. Everyone used to think that this independence would be undone by India soon.
This happened because of internal conflicts between provinces. The inept, corrupt and weak state persuaded the military to take account of all matters into its hands. Nevertheless, arguments say that repressive military regimes did not strengthen political and social institutions. Judiciary, media, and legislature were forced to legitimize military rule.
Also read: | Why Dollar is International Currency?
Public Stance over Military Rule
The general populace did not oppose the military's abolition of the constitution as governmental institutions did. Due to poor literacy rates and public ignorance of the rule of law, there was an apparent disparity.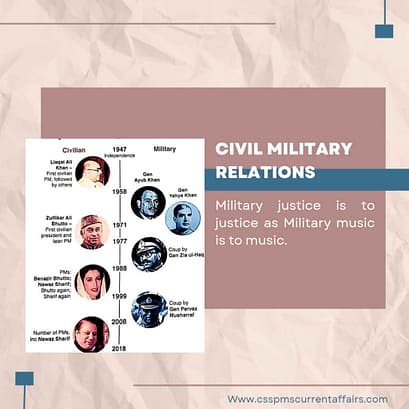 Re-balancing Civil-Military Relations in Pakistan – A Case Study of Turkey
In a parliamentary government, civil and military institutions have clearly defined borders. As a result, Pakistan doesn't need significant structural adjustments.
To restore the balance of civil-military relations in Pakistan, it is necessary to reconsider military mentorship. Right now, it is ineffective because of its informal state control mechanisms.
As a result of Copenhagen's requirements for accession to the European Union (EU), Turkey started its institutional reforms in February 2002.
This harmonization legislation served as a foundation for allocating both organs of civil and military relations in Turkey in favor of the country's elected government.
Also read: What NATO Countries Have Nuclear Weapons?
MGK and CCNS
The National Security Council (MGK) was established under the military regime to provide the Turkish armed forces with a formal role in the nation's government.
The National Security Council (MGK)'s composition and role were altered by the AKP administration. This also gave its opinions advisory status rather than a top priority.
While in Pakistan, the military had long wished to have an institutional role in the administration of the nation.
In 1998, the Pakistan Muslim League government fired the army chief for suggesting the creation of a national security council along Turkish lines in a letter.
However, in 2013, the same administration formalized de facto military supremacy over matters of national security by reconstituting the Defence Committee of Cabinet (DCC) as the Cabinet Committee of National Security (CCNS).
In contrast to CCNS, where uniformed personnel constituted a permanent component of the cabinet committee, the services chiefs in DCC were only invited as necessary.
This raised questions about the democratic legitimacy of the cabinet committee in CCNS.
Another significant development made by the APK administration was the 1982 constitutional revision that allowed military officials to be convicted in civil courts for offenses against the constitution.
Consequently, approximately 200 military personnel were detained and under investigation for allegedly conspiring to overthrow the elected government.
The proactive response from the Erdogan administration to the military's 2007 cautions over the eligibility of political candidates included a reminder to the military that it lacked the power to advise the government on its business.
Recommendations
1. Instead of involving the military in judicial, executive, and law enforcement concerns, Pakistan's democratic government ought to strengthen state institutions to improve civil-military relations in Pakistan.
2. To prevent any further military participation in politics, Pakistan must take a lesson from the Turkish instance and punish those who violate the constitution accountable for breaching their oath and doing so.
3. To oversee, manage, and supervise the activities of espionage agencies, a parliamentary committee headed by the prime minister should be established as a legal entity modeled after the US congressional committee on intelligence. There should be more possibilities for public servants to join intelligence agencies and be promoted to top roles.
4. For more civilian control over defense issues, the ISI should be reorganized as a civilian organization led by a civilian bureaucrat or a retired military leader.
5. Paramilitary troops should be completely under the jurisdiction of provincial governments.
6. It should also be possible for paramilitary force ranker officers to advance to higher positions.